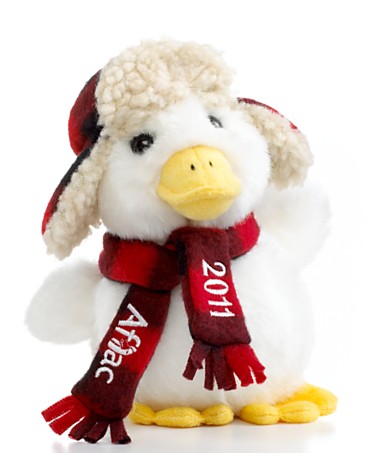 I was in Macy's earlier this month hunting for end of year closeout deals. With my selected items, I walked over to the closest checkout counter, which happened to be in the children's department. In front of the checkout counter was a small display of stuffed animal ducks with a band around its neck that read "Aflac." There were small ones and larger ones and they were on sale. The ducks beckoned, "Squeeze Me." I complied and was amused as it responded in a Gilbert Gottfried derived voice, "Aflac. AFLAC. AFLAAAC!"
I was standing next to a small boy, probably about 6, also taking the duck up on its invitation. He squeezed a few times, selected a larger duck, and ran over to his parents to show them. He held the duck up into his father's face and squeezed, "Aflac. AFLAC. AFLAAAC!" The boy grinned and his father gently pushed the boy's hand from in front of his face, "Sorry Jr., but at this time, our family is not in need of a stuffed duck that promotes supplemental health insurance."
While a brand and its recognition have long been pillars of successful marketing, companies have had their fair share of grief for targeting children in reaching their brand loyalty goals. Cigarettes and fast food come quickly to my mind. But chastising has come after such products are found to have undesirable social ramifications.
What ethical dilemmas are present in building brand recognition of insurance companies in children? Are there foreseeable social ramifications in marketing insurance and risk to children?
In order to be willing to buy insurance products, one must believe the risk that the product is intended to protect against is real and worthy of investment. The appropriateness of constructing such risks in children's mental models is worthy of public consideration.